REVO PN
Modules of 12 or 24 zones already divided into three phases or one phase from 4 to 24 zones
Logic input SSR 7 ÷ 30Vdc 9mA Max (ON ≥7Vdc OFF < 6Vdc)
L1 - L2 - L3 Power Input 370 - 480V
Nominal current in continuous service Max 25A for each load
Max peak current (10ms) 700A
Nominal Voltage range Ue 24 - 600V
Isolation Voltage Ui 2500Vac
N° 8 out SSR + CT input Option T digit 16 on ordring code
General Details
Catalogue
Order Code
General Details
REVO PN
Suitable to control Electric Heaters and IR Lamps in Industrial Heating Systems
MULTI-CHANNEL SCR POWER CONTOLLER. REVO PN MULTICHANNEL POWER CONTROLLERS IS DESIGNED ARE MANAGE HEATING SYSTEMS THAT USE ANY TYPE OF INFRARED LAMPS OR SIMPLE RESISTANCE HEATERS. This product meets modern connectivity needs REVO PN responds to the modern need for connectivity, data acquisition,monitoring and diagnostics of industrial plants through the most widely used field bus systems.It's the ideal complement to your PLC / MULTILOOP for improved power control.
EACH ZONE INCLUDE:
• Thyristor Units with high I2T
• Communication
• 480V Max Voltage
• Synchronizing Circuit
• Integrated Extra Rapid fuse
• Digital Input and Relay Output
---
HAVE YOU CONSIDERED HOW POWER PEAKS COULD BE A PROBLEM TO YOUR BUSINESS?
The REVO PN unit is designed to handle applications with multiple zones. This enhanced unit, thanks to a particular algorithm, minimizes your energy costs through the sync function and the power limit for each zone.

BENEFITS INCLUDE:
Elimination of power overshoot.
Power factor close to one due to zero crossing firing.
REVO PN keeps your instantaneous power within the limit of your electricity supply contract.
Prevents increases in energy supply tariffs imposed by your electricity supplier.
Rapido ritorno dell'investimento
---
REVO PN FEATURES:

Burst Firing, Half-Single-Cycle control.
Each loop's process information is managed independently.
Modbus Master, Modbus slave, Profibus DP, ProfiNet, Modbus/TCP and other Field bus systems.
Diagnostics of SCR temperature, SCR short circuit, open fuse.
Calculation of instant current and RMS Voltage, Current/Power.
Calculation of load resistance with Heater Break Alarm.
Voltage swing compensation.
Built-in extra-rapid fuses easy to replace.
---
Catalogue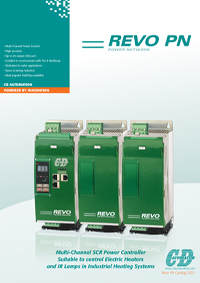 REVO-PN-CATALOG-2018


REVO PN Catalog - Multi-Channel SCR Power Controller - Suitable to control Electric Heaters and IR Lamps in Industrial Heating Systems

2.0 MiB